bet365 News Team
Nov 16 2022
Lionel Messi and Cristiano Ronaldo backed by international supporters to claim the Golden Boot at the World Cup.
For the World Cup 2022, we have been asking thousands of fans from across the globe to give their insight on this winter's tournament. From England to the USA, Argentina to Australia and so much more, supporters have offered their hopes and fears about the competition.
In just a few weeks, the teams will leave Qatar again with one going home victorious for another four years. There are other trophies to lift though, including the Golden Glove and the Golden Boot.
What were the main results of the Fan Nation Survey Golden Boot question?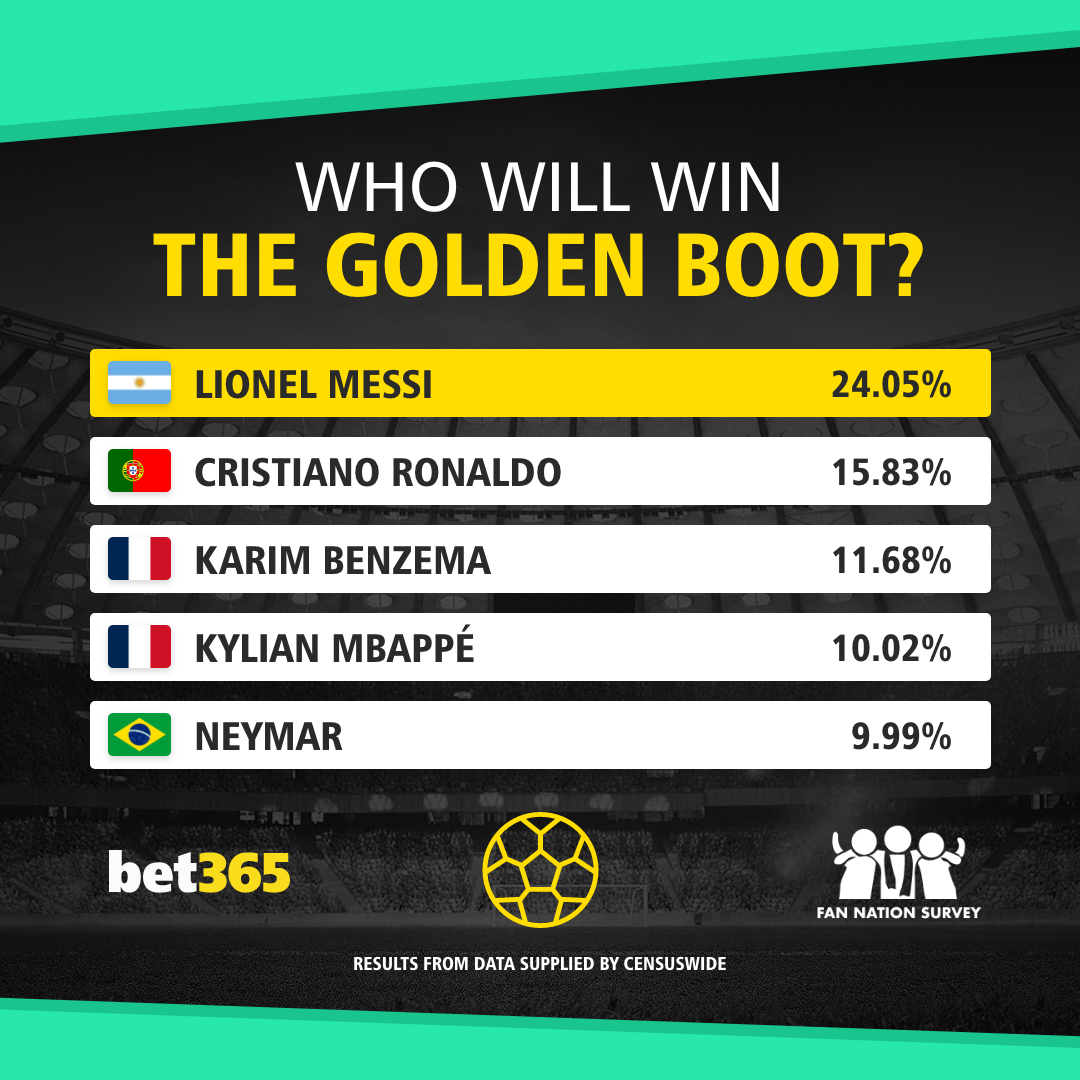 During the Fan Nation Survey, we specifically asked fans to answer the following question:
'Who do you think will get The Golden Boot?'
In the end, Lionel Messi got the most support from fan bases worldwide, earning 24.05% of the overall poll. Argentina was the fan nation to back him the most, with 71.60% of survey takers in the country favoring their man to win the Golden boot.
Cristiano Ronaldo came in second place, earning 15.83% of the poll results. Northern Irish football fans were the most confident that the Manchester United star will secure the Golden Boot with 29.41% choosing him as the future winner of the trophy. Spain on the other hand only backed him to the tune of 3.08%, despite his heroics for Real Madrid in his illustrious career.
Following closely behind Ronaldo in third place is Karim Benzema, with the French footballer securing 11.68% of the overall tally.
The full top 10 can be viewed in the table below:
| | |
| --- | --- |
| Player Name | Overall Fan Nation Vote for Golden Boot (%) |
| Lionel Messi | 24.05% |
| Cristiano Ronaldo | 15.83% |
| Karim Benzema | 11.68% |
| Kylian Mbappe | 10.02% |
| Neymar | 9.99% |
| Harry Kane | 6.93% |
| Vinicius Junior | 2.60% |
| Lautaro Martinez | 1.75% |
| Richarlison | 1.61% |
| Memphis Depay | 1.29% |
Speaking to bet365 about the survey results for the Golden Boot question John Barnes MBE said: "Of course, you ought to look at the usual suspects. You've got Harry Kane, Kylian Mbappe and Lionel Messi at Argentina. I wouldn't say they're dark horses because they're one of the favorites, but I think that depending on how well England do - Kane should be up there.
"Mbappe is obviously going to be up there as well, but Messi is my favorite player of modern times. I've got a sneaky feeling about Lionel for this World Cup."
Harry Kane is currently priced at +700 to win the Golden Boot with bet365, with a bet boost available on dozens of markets. Follow this link here to see live odds and prices for Christian Pulisic and all other Golden Boot contenders: World Cup 2022 Top Scorer Odds.
The bet365 Fan Nation Survey has been powered by survey data collected from Censuswide.